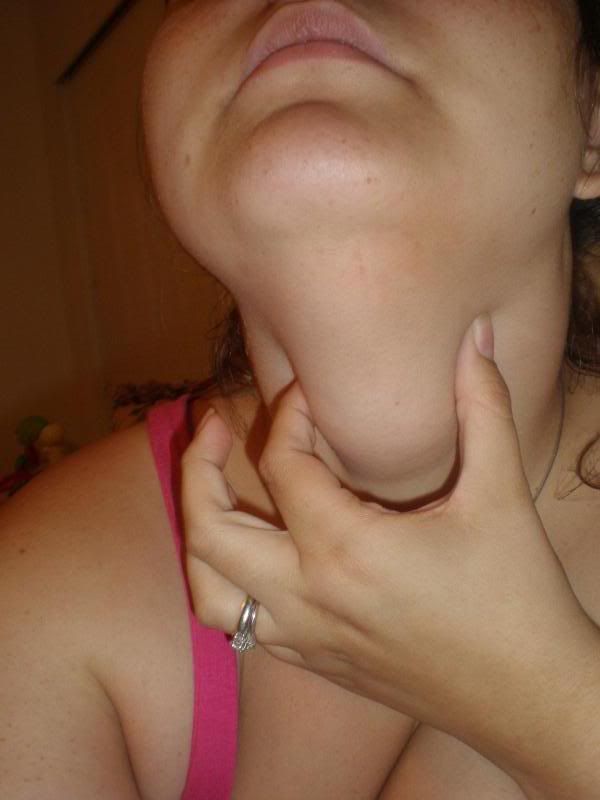 Back in October when I was visiting my in-laws in Missouri I got a sore throat and noticed that there was a lump in my throat. When I returned home I went into the base clinic and the doctor told me that he thought it was mono, even though I knew it wasn't and to come back if it didn't get better. A week later I returned, he wanted to do an
ultrasound
of my neck, but didn't know the code for the referral and said never mind. Instead he sent me to a surgeon at NAS Jax. Fast forward a month later, I show up for the appointment and the surgeon feels my neck, says it's a lymph node and that's it.
I suffered through with it, it seemed as though the swelling had gone down some. Another sore throat in May and I realize that the lump in my neck has doubled in size. When I laid down it was difficult to breathe. So I tried to make another appointment on base, they can't see me for THREE weeks. I can't breathe and they want me to suffer for three weeks? Yeah right, so off to the ER I go.
The ER did some blood work and all my levels are normal, but the lump in my neck is quite visible. So they ordered an
ultrasound
. The ultrasound tech could obviously see something, and to be honest looked quite worried. Within 10 minutes of the ultrasound I was having an IV put it to go back for a CAT scan. I'm freaking out at this point. Eventually the doctor came back with good news. The lump in my neck is something called a Thyroglossal Duct Cyst. I was born with it, and something, most likely my pregnancy with Asher, caused it to fill with fluid. He tells me to make an appointment with an ENT.
Back to base I go a week later to talk to my doctor so I can get the damn referral. Two weeks later the referral comes and a month later I finally get in with the ENT. It's now the end of June. My CAT scan wasn't enough for them to determine if the cyst is my only functioning thyroid tissue. And now that the cyst has gone untreated for so long the only option is surgery. Also, because it is so large I have a higher chance of complication because there will be a "void" in my neck. Lovely huh?
My surgery is scheduled for August 19th. Recovery time is approx. 3 weeks. This fiasco has taken almost a whole year to get taken care of. Isn't medical for the military absofreaking wonderful?
-----------------------------------------------
I noticed I have been getting a lot of hits on this blog via Google. So I thought I would go ahead and link my surgery update.
http://the-forbes-family.blogspot.com/2008/08/surgery-and-recovery.html
Also here is a picture of my neck, now 2 months post-op.